Le réchauffement climatique ne peut être enrayé que si les Etats mettent en oeuvre des mesures à cette fin. Deux acteurs ont un rôle à jouer pour les y inciter : les juges, et la société civile. Tous deux entrent en relation lorsque la seconde dépose, auprès des premiers,  un recours contre l'Etat.
Retrouvez la table-ronde en format audio.
Yann Aguila s'attèle à la présentation des deux voies de recours françaises qui peuvent servir dans ce contexte, détaillant leurs avantages et leurs inconvénients : l'action en responsabilité de l'Etat, et l'action en annulation.
Raphaël Mahaïm pour les Aînées pour la Protection du Climat (Suisse), Amy Rose pour ClientEarth (Royaume-Uni), Dennis Van Berckel pour Urgenda (Pays-Pays), Dinesh Pandey pour Wildlife Trust (Inde), Elizabeth Brown pour Our Children's Trust (Etats-Unis), Anaïs Wolf pour Klimatzaak (Belgique), Gerry Liston pour Glan-Law (affaire des petits portugais) et Tony Lowes (Irish Friends of the Environment) interviennent successivement.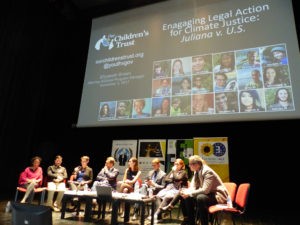 Il ressort de leurs interventions que les faits allégués dans les recours sont souvent les mêmes : les dégâts engendrés par la combustion du charbon, l'augmentation du niveau des océans et leur acidifciation pour Our Children's trust, les conséquences du réchauffement climatique sur la vie d'un groupe spécifique de personnes pour les Aînées… Urgenda s'est particulièrement servi des rapports du GIEC pour apporter les preuves nécessaires à son argumentation.
Les instruments juridiques mobilisés sont de plusieurs ordres. Certains recours se sont principalement fondés sur le droit national des Etats dont la responsabilité est mise en cause. Our Children's trust, par exemple, a fondé ses arguments sur la violation de la Constitution américaine (par le biais du duty of care et du substantive due process). Urgenda a aussi principalement utilisé le droit national: l'association ne s'est servie du droit international qu'en filigrane.
D'autres recours ont consisté à allier les sources nationales et internationales. Wildlife Trust a ainsi fait appel à des lois environnementales nationales, mais aussi à un principe international du développement durable ; Klimatzaak a puisé dans le code civil belge et dans la jurisprudence de la Cour de Cassation tout en se servant également des articles 2 et 8 de la Convention européennes de sauvegarde des droits de l'homme et des libertés fondamentales, interprétés par la Cour européenne de manière favorable aux victimes de la pollution.
D'autres recours, enfin, ont majoritairement orienté leur argumentation juridique vers le droit international. C'est le cas de la Suisse, qui se réfère aux articles pré-cités de la Convention européenne.
En somme, les stratégies juridiques, incarnées par les recours et leurs fondements juridiques, sont adaptées aux systèmes nationaux des Etats dont la responsabilité doit être engagée, et aux faits qui sont brandis ; c'est là tout le sens des six programmes de ClientEarth qui adapte les outils juridiques invoqués aux Etats dans lesquels elle intervient et aux allégations portées. Et toute l'inspiration de notre démarche qui vise, au-delà des actions prises en faveur du climat, à réclamer un droit adapté à l'urgence climatique.