We are calling for donations to help us continue our fight.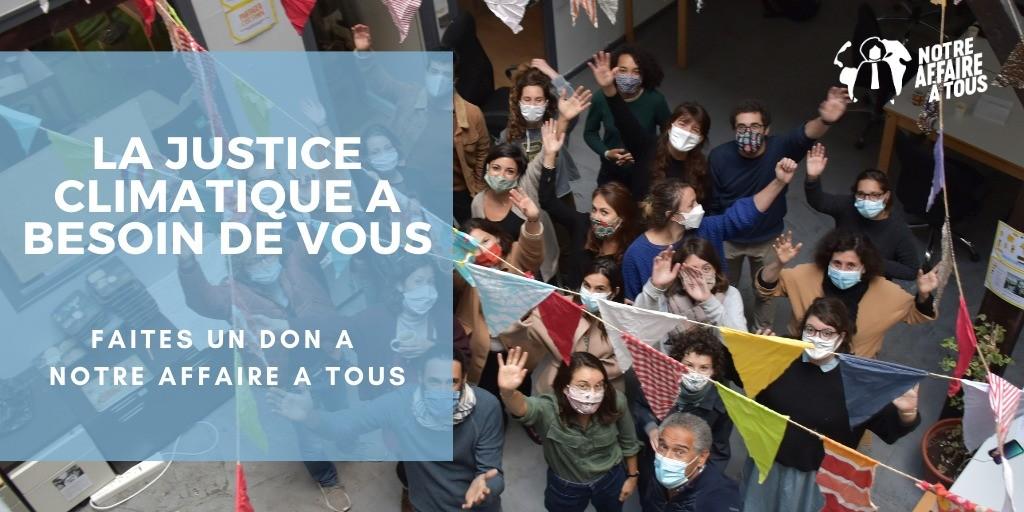 In the fight for climate justice, your support is essential. Your donations allow us to act effectively and over the long term. By becoming a donor, you guarantee the independence of the association. In concrete terms, your donations will allow us to finance the coordination of our projects, the legal and mobilization work and the renting of offices at the Base, the place where climate and social mobilizations come alive. To make 2021 the year of climate justice, become a donor to Our Shared Responsibility !
Thanks to you, we are building together a planet that protects the living.
To ensure that our fight continues in 2021, we appeal to your generosity !
Support our actions for climate justice and environmental law !
Why support us ?
Notre Affaire à Tousacts to ensure that the rights of nature are recognised and respected. We work for the establishment of a climate justice system that will protect the environment and hold to account those responsible for climate change. Notre Affaire à Tous is a small, non-profit organisation staffed largely by volunteers. Your donations are vital for supporting our actions and guaranteeing our independence. They empower us to take action to protect our rights as well as those of nature.
Respecting your privacy
In accordance with the Data Protection Act of January 6, 1978, you have a right to access, modify, correct, and delete data concerning you. To exercise this right, contact: contact@notreaffaireatous.org
Support us with confidence
This website is 100% secure. All bank information for processing payments is encrypted using SSL protocol. It is never stored on our computer systems. The Notre Affaire à Tous team is ready to respond to your questions. You can email us at contact@notreaffaireatous.org
Help us with clicks !
You can also support us by using the solidarity search engine Lilo.
For more information, watch a video here.
Donate by cheque
If you prefer, you can donate by cheque. To do this, simply make the cheque payable to Notre Affaire à Tous and send it to this address : La Base, 31 rue Bichat 75010 Paris
You can also donate by bank transfer. Contact us by email at contact@notreaffaireatous.org to ask for our bank details or download the donation form to print and mail back to us.